Warners Media has a flexible approach to all projects, big or small, and work closely with our clients to deliver on time and to budget. Many of our services have a fixed hourly or a fixed total cost.
Contact us to discuss your project! In the meantime, you can check our range of services and rates below: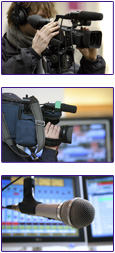 Full Video Production
We use the latest professional lighting and sound equipment with high-definition cameras to ensure a quality production from start to finish. We can work with you in pre-production to assess your needs, understand your audience, and develop your sales message before anything goes before the camera. We then complete your shoot and carry out post-production, including professional voice-overs and animated branding as part of the final edit. Finally, we can deliver your video in a range of formats for online and offline use.
Our rates are competitive and vary depending on the length and content of the production. Quality video production is within your budget! Contact us to discuss your project.

Web Video
We understand the web. Whilst longer DVD productions work very well for certain audiences, research shows that web audiences have a shorter attention span. Depending on your product or service, we specialise in creating short, informative and exciting video presentations that suit web audiences, including brand promotion and links to your website. Need a high-res 360-degree view of your product to include on your website? No problem.
Most importantly, no matter how good a video for the internet may be, if it isn't named, described and tagged in the right way, it can fail to reach its audience. We ensure that your video is launched will keywords that meet Search Engine Optimisation standards. Contact us to discuss your project.

Motion Graphics
Warners Media can animate your company or product logo, either as part of an engaging animated sequence, or stand-alone for you to use in your own projects .We use industry-standard animation software and can incorporate bespoke video footage and timelapse photography to create stunning graphics for a variety of uses. Contact us to discuss your project.