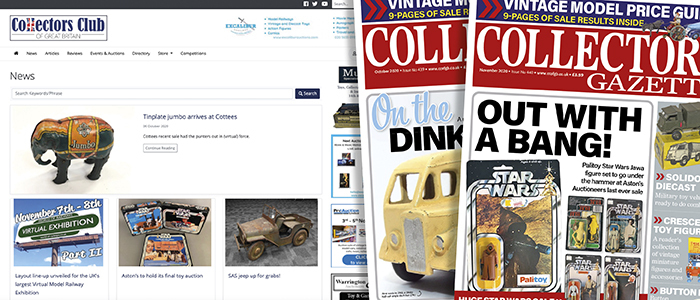 Collectors Gazette magazine is the only toy collecting magazine that focuses mainly on traditional and nostalgic old toys.
Every issue includes news and features on trains, diecast models, toy soldiers, toys and games, TV and Film memorabilia, and teddy bears. The monthly magazine also reports on toy auctions keeping you up-to-date with what your collectables could be worth or the price of that sought-after item.
Also in each issue you can expect regular features such as 'Railway Round-up' with model train news, 'Obsolete Oz', the monthly column from our resident collectables trader and dealer, an event guide to help plan your toy fair diary, the 'Dealer Directory', sales and exchange listings, swapmeet reports and 'Toy Figure Focus'.
Collectors Gazette is part of our online collecting resource, Collectors Club of Great Britain. This all encompassing website is the resource for all collecting enthusiasts and perfect for both the novice and experienced collector.