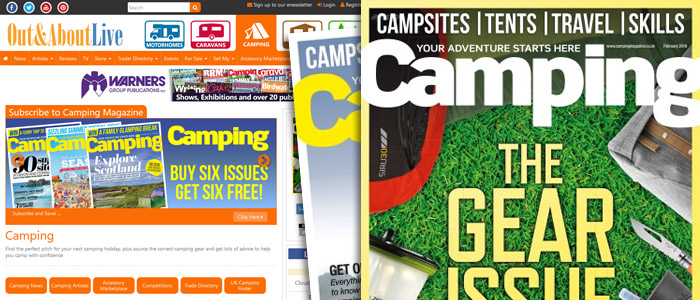 Camping is Britain's only monthly magazine dedicated to life under canvas. If you love the great outdoors, you will love Camping magazine.
Every issue of Camping magazine is written by campers for campers and is packed with ideas, information and advice about the best campsites, tents and gear for your family's next camping adventure.
Whether you are a novice or an experienced camper, you will find everything you need to know in Camping magazine. Each month we find out from our readers about the campsites they've visited and the tents they use, to help you make the right choice for your camping holiday.
On sale on the first Thursday of each month, Camping includes features from regular contributors whose combined knowledge about camping is second to none, and every issue gives readers a chance to win fantastic camping equipment as well as the opportunity to take advantage of some great readers' offers.
Camping magazine is part of our outdoor leisure flagship website, Out and About Live. The website has a camping section where you will find everything you need to know about life under canvas, whether you are a beginner or an experienced camper. The camping section is filled with ideas and information that will help you with every aspect of your family camping trip, including expert tent reviews, advice on equipment and handy practical tips.