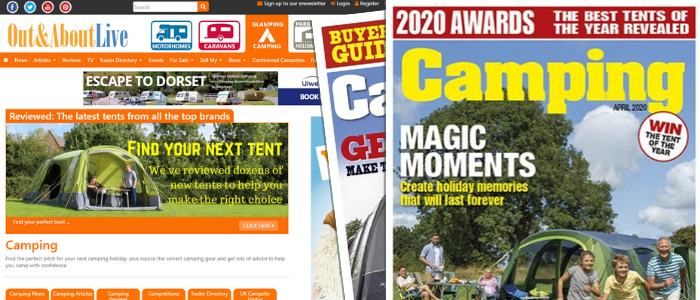 Camping is Britain's only monthly magazine dedicated to life under canvas. If you love the great outdoors, you will love Camping magazine.
Every issue of Camping magazine is written by campers for campers and is packed with ideas to inspire your camping trips, plus advice on the best campsites to stay on to make your camping adventures the best they can be! The magazine is also full of the latest tent tests and gear reviews to ensure you have the right equipment. It also includes the latest news, campsite cooking, competitions and much more!
There are 10 issues of Camping published each year, it is available in all good newsagents, or you can subscribe to the print version with one of our special offers –  https://www.outandaboutlive.co.uk/camping/store/subscriptions/ It is also available digitally from – https://pocketmags.com/camping-magazine
Camping magazine is part of our outdoor leisure flagship website, Out and About Live, where you will find a searchable campsite finder with over 3,500 campsites across the UK and Europe, plus the latest tent reviews, news, competitions and much more!