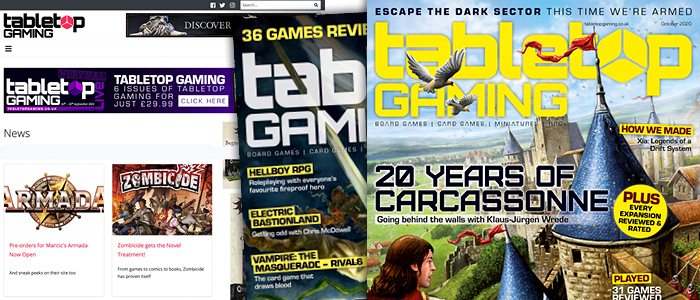 Tabletop Gaming is the world's leading magazine dedicated to every type of analogue gaming, from board games and RPGs to miniatures and wargames, with everything in-between.
Whether you're a D&D diehard, Magic newcomer, Eurogame enthusiast, Warhammer addict, Pandemic fanatic, X-Wing expert or Exploding Kittens obsessive, we've got exactly what you're looking for.
Every month we feature exclusive behind-the-scenes looks at the biggest upcoming releases of the year, in-depth interviews with top designers, tips on how to get the most out of your hobby with painting guides and advice on roleplaying, and definitive reviews of the latest and greatest games you should be playing – plus much, much more.
From top ten lists and beginners' introductions to help you jump straight into the best games you might have missed to reports from the UK's most exciting events and friendliest local stores, there's no corner of the hobby we leave untouched, from the games and their creators to the dedicated communities and players that enjoy them.
With a team of expert writers, world-beating access to the creators of your favourite games and a commitment to celebrating the tabletop with an unparalleled level of knowledge, humour and passion, Tabletop Gaming is the best way of keeping up with the greatest hobby in the world.
Now you can take that passion with you wherever you go with our digital edition on your mobile, tablet or PC, so you can ensure you know the latest from around the world of gaming whether you're on the train, playing in your FLGS or waiting in line at a convention.