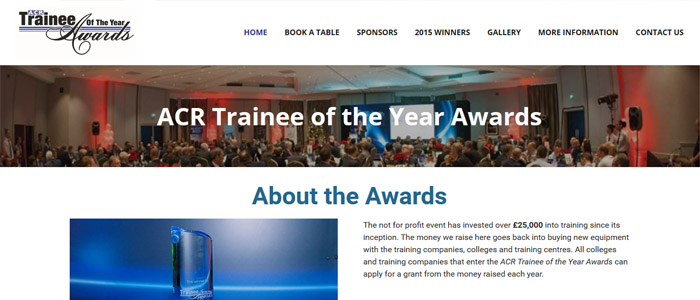 This special Awards luncheon was launched in 2010 to specifically recognise, encourage and raise the profile of training, trainees and apprentices in the ACR sector. It immediately attracted strong support from organisations and companies across the sector.
The Award
Identifies and celebrates the talents and achievements of apprentices and trainees in the refrigeration and air conditioning sector: the installation, service and maintenance engineers of the near future.
Invites entries from apprentices and trainees who combine practical skills with progress in obtaining formal qualifications. The winner will demonstrate practical ability, effort and determination, a positive 'can do' attitude, and contribution to their 'team' or colleagues.
Utilises the knowledge and experience of Judges drawn from across the sector, whose scrutiny will be rigorous in seeking out the 'best'.
Benefits for Winners
Not only do the three finalists gain from their prizes, their careers and career prospects benefit also: winning an industry award adds impressively to your CV, with employers recognising the ability that it signals and encouraged to further invest in your training and development.
Benefits for Training Providers
This is a non-profit event. The past 2 years has seen £10,000 awarded to the winners training providers to be invested back into training.
For enquiries regarding how to enter or qualify for funding as a training provider please visit the site below.