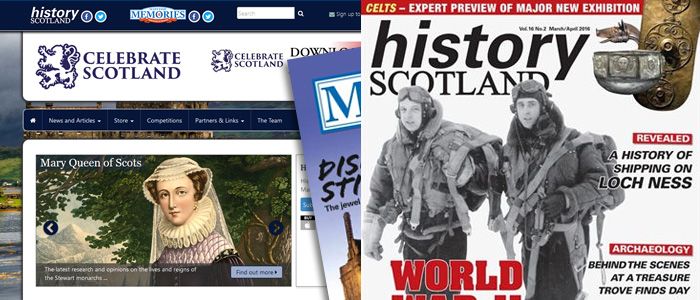 Celebrate Scotland is the home of our two fascinating Scottish titles: Scottish Memories and History Scotland.
Both magazines celebrate the best of Scotland's past and present, with a range of articles on the country's history, heritage and traditions. With a unique style and a winning blend of Scottish history and nostalgia, these magazines are a must-read for anyone with a passion for Scotland's past.
Scottish Memories
Scottish Memories is Scotland's premier history/nostalgia monthly which brings the past to life through articles, archive photographs and reader memories. Each issue is packed with fascinating stories, which cover all aspects of Scotland's past, including crime, the supernatural, legends and customs, sporting history and well-known personalities of the past.
Each month, a different area of Scotland is highlighted through a travel feature which contains spectacular landscape photography and advice on how to make the most of a trip to the region.
History Scotland
History Scotland provides authoritative and fascinating features on topics from all areas and periods of Scottish history and archaeology.
The bi-monthly magazine reflects current thinking, the latest research and new discoveries, and is written by Scotland's leading historians, archaeologists and museum curators. The magazine also has an in-depth news section, which presents the latest research and finds from across the country.