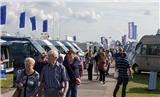 Make sure you've got our 2016 show line-up on your calendar, we'd hate for you to miss out on another year of exciting events from Warners Shows.
The Great Yorkshire Motorhome Sale, Harrogate
18-20 March 2016 (No camping)
The National Motorhome Show, Peterborough
15-17 April 2016
Headline Acts: Brian Conley, Heatwave, Clem Curtis & The Foundations
The Southern Motorhome Show, Newbury
20-22 May 2016
Headline Acts: The Tremeloes, The Merseybeats & The Pacemakers
The Midland Motorhome Show, Stafford
24-26 June 2016
The Norfolk Motorhome Show, Norwich
22-24 July 2016
Headline Acts: Stan Boardman, Hamilton Brown (Lionel Richie Tribute) & Sing Baby Sing (Stylistics Tribute)
The Western Motorhome Show, Malvern
12-14 August 2016
Headline Acts: Garth Brooks UK, Tammy Wynette – The Legend & A John Denver Tribute
The Motorhome Show Season Finale, Lincoln
23-25 September 2016
Headline Acts: Jimmy Tarbuck and Kenny Lynch, Eric and Little Ern & Dr & The Medics.
The Malvern Caravan Show, Malvern
30 Sept-2 Oct 2016
Headline Acts: Stayin Alive (The Ultimate Bee Gees Tribute) and Stan Terry as Rod Stewart.
Remember, pitches go quickly, especially in club areas. Book early, then sit back, relax and look forward to your weekend away with us!
Keep checking www.showgoer.co.uk for the latest information or sign up to our e-newsletters and have the latest news and offers sent straight to your inbox, click here.