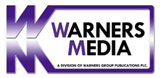 Warners Group Publications' media department has produced a promotional video for sister company, Warners Midlands.
The video aims to highlight the many benefits of working with and for a well-established, family-run printing business.
It features interviews with long-serving staff members as well as internal and external factory and site footage.
Find out more about Warners Media's services here.