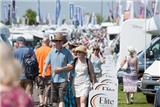 Here, Warners Exhibitions explains how they have secured seven fantastic venues, across seven counties and seven months for its 2015 events calendar.
'We start with our day visitor event set in the beautiful spa town of HARROGATE. A wide variety of caravan and motorhome dealers will be looking to satisfy your new purchase and will be on hand to get you ready for the season ahead.
Anyone wanting to camp on site the venue do have limited camping pitches at the Harrogate Caravan Park 01423 544544 or alternatively there are many picturesque campsites in the local area.
The big one returns to PETERBOROUGH for its 25th Anniversary event, this show is the one to be at, make sure you book your pitch early as we may sell out.
Bought to you in April this is the first chance to stop on site with Warners, give your vehicle a test run, pick up anything you need for your touring year ahead and take advantage of the free informative seminars bought to you by MMM Magazine.
The biggest outdoor motorhome show by far! Delivering outstanding entertainment headlined by Jim Davidson, The Rubettes and Vanity Fare.
2015 sees Warners add a third entertainment venue for the weekend with country and western the ever popular theme.
Head South to the stunning county of Berkshire when we land at NEWBURY Showground in May for our fantastic 60's weekend – offering a massive trade area housing the countries' leading motorhome dealers and accessory stores.
Night time turns into a celebration of the 60's with Saturday night headline acts The Searchers, The Swinging Blue Jeans and The Dakotas all for just £5 when you pre-book your entertainment tickets. Get in there fast as we predict this will be a sell out! All other entertainment on site is free of charge!
Bring on the summer with a trip to STAFFORD in June. This year Warners are offering the opportunity to stay on site from Friday to Monday for just £35. Limited camping is available so I would advise you do pre-book this stop over.
The trade area follows Warners usual format with an enviable trade presence for all your hobby needs, an on-site bar, café and shop to cater for your every need whilst you enjoy your weekend break.
Great news – we have secured NORFOLK Showground in July and what a wonderful setting it gives for you to enjoy four nights on site and then venture on to the charming coast of Norfolk.
If you need it, this show will have it, with a large assorted trade presence, food outlets, special show features, a vintage fun fair and 4 nights of laughter and soul entertainment guaranteed to give you a good time. A fantastic line up that the whole family are sure to enjoy.'
The beautiful Malvern Hills see the return of over 3,000 units camped on site at the MALVERN Showground in August for our very popular event.  A fun show whether you crave country and western or not with plenty going on all weekend to keep you entertained.
Every possible gadget and product, with fitting on site, you could dream of and of course le crème de la crème of the country's leading motorhome dealers all in one place for you to gain knowledge and prices on your next purchase. I cannot emphasise enough that you must pre-book this show as it goes from strength to strength.
Wow what a season as we close in September at the Lincolnshire Showground with 'the best of British' themed show. LINCOLN is flagged as 'a must see historic city' steeped in history, or just very good for shopping whichever takes your fancy.
Stay on site for 4 nights and soak up the atmosphere, last chance to catch up with friends at a Warners Show before the close of the season.
Many motorhome dealers will display 2016 models at this show, order yours ready for when the first vehicles are despatched, or simply pick up end of season bargains.
Laugh the night away with Saturday evening headline act Jethro and enjoy the sounds of Showaddywaddy and Gerry Trew.