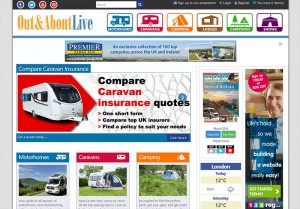 THE hugely-popular Out & About Live website, which covers all areas of the outdoor leisure lifestyle including motorhoming, caravanning, camping and holiday lodges, has been relaunched with a new look.
As well as the latest news and articles covering all aspects of the outdoor leisure industry, there are hundreds of inspirational travel articles and reviews of the latest motorhomes, caravans and tents.
The new-look website also allows visitors the chance to research, buy and insure their next motorhome, caravan, tent or holiday lodge, plan their next holiday using the Campsites section, which boasts more than 6,000 campsite listings, buy essential accessories from carefully-selected partners in the Marketplace and much, much more.
Out and About Live Associate Publisher, Andrew Stark, said: "With hundreds of reviews, thousands of vehicles for sale and an insurance comparison function, the Out & About Live website is the perfect platform to research, buy and then protect their new pride and joy, whether it be motorhome, caravan or tent. They can then plan their next adventure using our Campsite Finder facility."
The website also includes a shows section where visitors can read about – and book tickets for – a range of leading outdoor leisure shows held throughout the year.
Other popular sections include 'TV', featuring how-to guides and reviews, Buyers' Guide, where users can research their next motorhome or caravan purchase and a busy forum, where users can chat to like-minded individuals and gain a wealth of information about the outdoor lifestyle.
Created by Warners Group Publication's internet development team, the new site's responsive design means it displays neatly across a range of devices, including tablets and mobile phones, great news not only for the user but also for companies who want to put their products in front of potential buyers with a targeted advertising campaign.