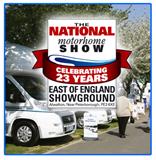 Thousands of visitors descended upon the East of England Showground last weekend to enjoy the 23rd National Motorhome Show in glorious sunny weather conditions, with record breaking numbers in attendance.
Waiting for them were over 300 exhibitors and over 800 new and pre-owned motorhomes, along with every conceivable accessory – confirming the Show's status as the biggest outdoor motorhome show in Britain.
The Show, which marks the official start to the Warners camping show season, is widely famed for the calibre of its shopping and its campers' entertainment, and this year it didn't disappoint. As well as exploring the Show's huge exhibition area, campers danced the night away to a wide array of high quality acts including Bucks Fizz, the Tremeloes, the Bachelors, Union Gap, the Fantastics and the Dreamettes and more.
But it doesn't end there! We're now looking ahead to our Southern Motorcaravan Show, held in Newbury on 17th-19th May 2013. This much loved show promises to once again be a fantastic event for motorhomers, complete with four nights' camping, four nights of superb campers' entertainment, shopper's paradise and the enchanting city of Oxford nearby. To pre-book your camping pitch* or for more information visit the Southern Motorcaravan Show website today.
Don't forget to check out our other 2013 events held across the country at Showgoer.
Louise Belfield
Exhibitions Marketing Manager
Email: louiseb@warnersgroup.co.uk
Telephone: 01778 391117