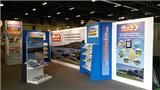 This year's National Motorhome Show, Peterborough, attracted 15,000 visitors between 25th and 27th April.
The event, the UK's largest outdoor motorhome show, celebrated it's 24th year in style, as it welcomed thousands of visitors and campers, hundreds of new and used motorhomes for sale, the latest accessories and bargains galore, plus great entertainment for camping guests.
Next year's show will run from 17-19 April – but the good news is you don't have to wait that long for the next great motorhome show.
The Southern Motorcaravan Show, held at the Newbury Showground 16-18 May, offers visitors access to the latest motorhomes and accessories and for those looking to stay over, four nights' camping and four nights of live entertainment. Find out more about the full line-up of our motorhome show.
And the really good news is that you can save money on day visitor entry with a downloadable voucher. Just click on the voucher, download and print off. For your voucher simply click here.
Content kindly provided by Out and About Live.