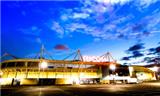 We're now just over two weeks away from the latest show to be launched by Warners Exhibitions. RMweb Live is a brand new railway modelling event and will be held on 13-14 September at the Ricoh Arena in Coventry.
Inspired by the UK's biggest railway modelling website, RMweb.co.uk, our ambition is to "make this show completely different to any other in the hobby," says RMweb editor and founder, Andy York. "With this goal in mind, we have combined both traditional and modern aspects of the hobby to create an innovative show for you to enjoy," he said.
The main difference between RMweb Live and other railway modelling shows will be the six 'Skill Zones' dotted around the arena. These will feature practical demonstrations by experts in the hobby, covering key modelling skills for modellers of all abilities, including newcomers to railway modelling. These 'zones' will cover: scenery, trackwork, modelling skills, electrics, painting and technology. The 'Technology Zone' has really got modellers talking and will be showcasing new innovations in the hobby such as 3D printing. Expect to see 3D printers in action, with railway modellers demonstrating how 3D-printed products can be used on your layout!
The RMweb Theatre will be presented by keen railway modeller Steve Lamacq from BBC Radio 6, hosting fifteen minute presentations that will feature a number of key layout owners and demonstrators from the show itself – you won't want to miss these!
The show will also feature a very unique selection of model railway layouts (some never seen at a major exhibition before) and an extensive trade area, including key retailers Gaugemaster (hosting its very own practical demonstration area) and Hattons of Liverpool displaying their new 3D printers! There will also be an abundance of specialist traders, selling everything a railway modeller might need.
So, if you're looking to enhance you existing modelling skills, are new to the hobby or simply love a browse, come and join us in September for a new event that's got railway modellers talking!
Visit the RMweb Live show page for more inforamtion on how to attend.