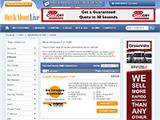 The fantastic summer weather that the UK has been basking in recently appears to have stimulated massive interest in the great outdoors, and in motorhomes in particular.
While temperatures in July rose making it the hottest since 2006,
www.outandaboutlive.co.uk
the online home of MMM – Britain's best-selling motorhome magazine – also saw records being smashed.
The website, which is also home to the country's largest online searchable campsite directory, was visited by more motorhomers than ever before. Traffic increased by 20% on June and the number of pages read beat the previous record set in May by a further 10%.
The website's
Campsite Finder
and
Motorhomes for Sale
sections proved extremely popular as visitors searched for destinations to visit in their motorhome and for the latest opportunities to buy a motorhome. There are over 5,800 campsites listed on Campsite Finder and, for those in the market for a new motorhome, there are almost 2,000 new and used campers and motorhomes for sale listed. With prices ranging from under £6,000 for a used campervan to over £165,000 for a luxury RV there is a motorhome to suit all budgets.
And, more motorhomes are being added daily as sellers also take advantage of
www.outandaboutlive.co.uk
which allows them to sell their motorhome from as little as £45.