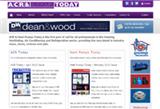 The website for our business to business publications for the air conditioning, refrigeration (ACR) and heat pumps market, namely ACR Today and Heat Pumps Today, has recently gone live.
Increasingly, our business audience is looking for information and news online about new products, services and changes in the ACR and green energy industries.  The new site is designed to provide them with additional news to our print publications which is updated more frequently than is possible with the magazines.
In addition, we have launched specific Twitter and Facebook accounts for each publication so we can share our own news, our readers' updates and industry news from around the world which we think they will be interested in.
Readers can now comment on articles and features on the site and contribute to discussions in our LinkedIn Groups, which is a big change from our previous sites.
We're delighted to have now gone live with the website and we hope our readers are equally pleased it.
You can visit the new website here: www.acr-heat-pumps-today.co.uk
Will Hawkins
Website Editor
ACR Today & Heat Pumps Today
Email: willh@warnersgroup.co.uk
Tel: 01778 394748