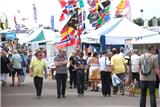 Last weekend saw the launch of our brand new day visitor show at Staffordshire County Showground – The Midland Motorhome Sale. The event attracted 5,000 visitors between 11th and 13th July 2014.
Over 100 exhibitors attended the event, including some of the country's leading motor home dealers showcasing hundreds of new and used vehicles at competitive prices.
Blessed with sunshine all weekend, Visitors also enjoyed fantastic entertainment from jazz duo, the Riverboats Days. Whilst we hope to return to Stafford next year, the good news is you don't have to wait very long for our next great motorhome show!
The Western Motorhome Show, held at Malvern on 15-17th August, offers visitors access to the latest motorhomes and accessories. For those looking to stay on-site, four nights' camping and four nights of live country and western entertainment are also available. Find out more about the full weekend line-up and also coming as a day visitor.
Finally, our summer season will end in style at our Motorhome Show Season Finale in Lincoln. Returning to Lincolnshire Showground on 26-28th September, we will have many of the UK's leading dealers on-site. You can discover a range of different models, from coach-builts through to ARVs – there is something to suit all budgets with plenty of motorhomes for sale. Our 'Lincoln Show' is also a great chance to preview some of the new 2015 releases on display.
For those booking to camp for the weekend there will be entertainment from Chas & Dave, Alvin Stardust and a Cliff Richard Tribute*. Plus, the show's 'Best of British' theme will feature a number of displays celebrating the 'Great' in Great Britain. Find out more about the show and our 'Great Motorhome Cake Off' with celebrity judge Rosemary Shrager.
*Saturday night headline entertainment. Separate ticket required.
Find out more about The Western Motorhome Show – 15th – 17th August 2014
Find out more about The Motorhome Show, Season Finale – 26th – 28th September 2014