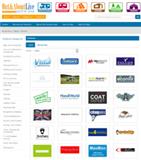 Outdoor leisure website, Out and About Live, launched its new outdoor accessory platform during October, introducing over 30,000 product views to visitors in the first few weeks of it being live.
The marketplace currently features 67 partners, selling over 4,000 motorhome, caravan and camping accessories, allowing outdoor enthusiasts to find everything they need all in one place.
As well as price promise on selected products during the year, the marketplace will be also have limited-time-only discounts on featured products.
Associate Publisher Andrew Stark said: "The introduction of the marketplace is a great addition to Out and About Live and complements our already successful used motorhomes for sale and campsite finder sections of the site. We're committed to developing the site further and providing visitors with everything they need in one easy-to-use website."
If you like to become a partner please contact Andrew Stark on 01778 391194 via email or alternatively browse the shop here.