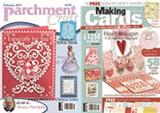 Warners Group Publications PLC are delighted to announce the acquisition of MAKING CARDS and PARCHMENT CRAFT magazines.
Making Cards magazine is the UK's best value card making magazine. It's packed with detailed step-by-step card projects created by a team of highly talented contributors demonstrating a vast array of techniques to bring you a wide range of beautiful projects that are unique to Making Cards readers. Each jam-packed edition also comes with 16 free quality single sided themed craft papers complete with a project guide. All this teamed with competitions galore, friendly interviews, celebrity crafters, reader letters and shopping pages showcasing the newest products makes Making Cards one not to miss!
Parchment Craft magazine remains the only publication of its kind anywhere in the world making it the premier choice for enthusiasts who demand the full diversity of their chosen subject. A global team of widely respected editorial contributors bring a broad range of parchment ideas, patterns and techniques every month presenting possibilities with new products as well as traditional methods including white work embossing and working with different colouring mediums.
Lucie Roper, publisher at Warners said "This is a great opportunity to expand our publishing interest into the craft arena joining our existing titles, Dolls House and Miniature Scene and Dolls House Projects.
Peter Raven and Magmaker Limited have built Making Cards and Parchment Craft up to a very strong position, and following Peter's decision to retire, we very much look forward to building on his success."
Peter said "This is an exciting time for these titles and I wish to pass on my thanks and acknowledgements to all who have supported and worked with us over the years."
The transfer came into effect with the January 2014 editions of both titles.
For more information on any of our craft titles please visit: Making Cards Magazine, Parchment Craft Magazine, Dolls House Magazine and Dolls House Projects.