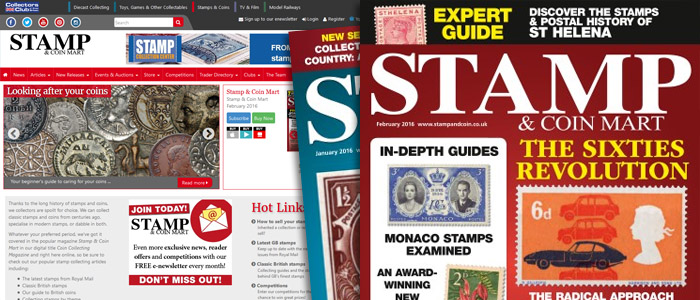 Every issue features in-depth collecting guides, expert advice, price guides, and the latest news on every aspect of stamp and coin collecting.
The monthly magazine includes exclusive features on the British Library Philatelic Collections, perhaps the best stamp collection in the world. Award-winning writers share their knowledge of stamps and coins, providing readers with collecting tips and background information, while popular regular features include a focus on stamp engravers, an at-a-glance guide to philatelic facts, auction results, beginners' guides and the fascinating stories behind stamps and coins.
Stamp & Coin Mart magazine is part of our online collecting resource, Collectors Club of Great Britain. This all encompassing website is the resource for all collecting enthusiasts and perfect for both the novice and experienced collector. Find out more about the latest stamp and coin events, exhibitions and fairs around the country and enter a range of exciting competitions.